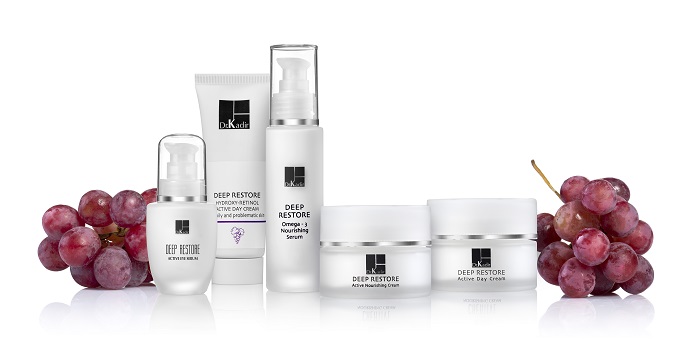 DEEP RESTORE ACTIVE TREATMENT – THE UPGRADED SERIES 2014
Skin aging is characterized by reduction of skin thickness, formation of wrinkles, hyperpigmentations, loss of elasticity decline of firming, and drop of water content.
Deep Restore series was formulated for effectiveness. It was especially developed to restore the mature skin. The series is based on a unique combination of active materials with proven effects in treating the various disorders associated with chronological skin aging and photo-aging: alpha and beta hydroxy acids, vitamin C, coenzyme Q10, retinol, bio-mimetic peptides and more.

Alpha and Beta Hydroxy Acids: stimulate the renewal of the epidermal cells and improve the functioning of the stratum corneum i.e. the skin barrier, against loss of water, thus, hydroxy acids are powerful moisturizers. Hydroxy acids minimize the appearance wrinkles by improving the quality of the elastic fibers in the dermis. These acids also help to maintain an eve skin tone.

Vitamin C: the products contain an innovative stable derivative of vitamin C (VC-IP - Ascorbyl Tetraisopalmitate). VC-IP is an improved form of vitamin C. Unlike vitamin C, VC-IP is oil soluble, provides better skin penetration. VCIP is a strong anti-oxidant and anti-inflammatory active that enhances skin repair, increasing collagen and glycosaminoglycans production. It has also an effective skin lightening action and moisturizing effect.

Coenzyme Q10: a powerful antioxidant which protects the cells membrane from the destructive free radicals and guarantees proper functionality of cell membrane. Coenzyme Q10 is also involved in energy production processes in the cells and therefore, increases the vitality of the tissue.
Coenzyme Q10 prevents Collagen degradation by inhibiting the activity of destructive MMP enzymes.

Retinol: Retinol regulates the turnover of the epidermis which begins in the basal layer and ends in the formation of the skin barrier – the outermost layer of dead cells (the stratum corneum). Retinol has also deeper effect in the dermis, it stimulates processes of repair and improves the condition of the elastic fibers in the aged dermis. Retinoids seem to reduce pigmentation by accelerating epidermal exfoliation.
The products: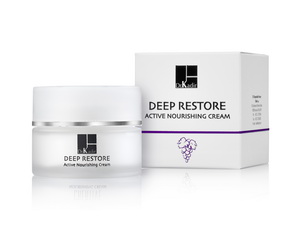 Deep Restore Active Nourishing Cream:
This is a highly effective cream for treating photo-aging symptoms, it contains a unique combination of active ingredients:
1. Glycolic acid.
2. Malic acid.
3. Vitamin C.
4. Coenzyme Q10.
This unique combination of active ingredients together with nourishing ingredient such as jojoba oil and vitamin E. creates a very efficient restoration action on the mature skin.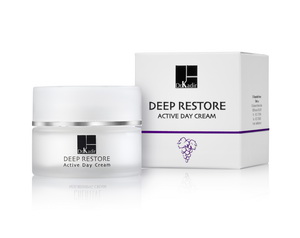 Deep Restore Active Day Cream:
The cream is intended to preserve and support the treatment during day time with an effective protection from the radiation of the sun and moisturization. It contains 5% alpha and beta hydroxyl acids: lactic acid, malic acid, glycolic acid and salicylic acid together with vitamin C, vitamin E retinol and coenzyme Q10. This day cream has a Sun Protection Factor SPF 15 .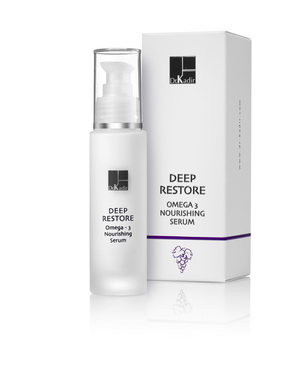 Deep Restore Omega-3 Nourishing Serum:
The serum is intended for the nourishing and soothing of the skin as well as promoting the restoring effect.
The product has a rich texture. It contains essential omega-3 fatty acids. Omega-3 essential fatty acids regulate many activities in the skin such as diminishing inflammatory processes in the tissue.
The serum contains a soothing ingredient based on oat components (Symcalmine) and a bio-mimetic peptide - DERMAXYLTM for minimizing the appearance of wrinkles. Skin moisturization is enhanced by panthenol and vitamin E.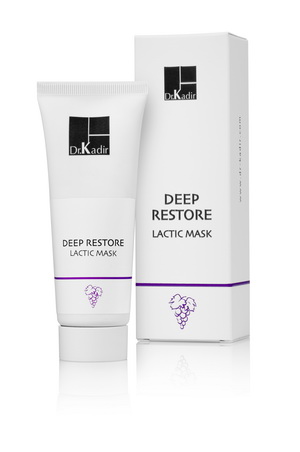 Deep Restore Lactic Mask:
A soft creamy nondrying mask containing lactic acid, vitamin C, vitamin E and jojoba oil. It has a wonderful softening and lightening effect. The mask contains also oat extract and aloe vera for their skin calming properties. The mask has lightening effect together with calming, moisturizing, nourishing and firming action.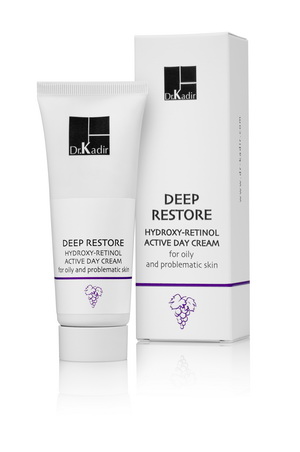 Deep Restore Hydroxy Retinol Day Cream for Oily and Problematic Skin:
The combination of alpha and beta hydroxyl acids with retinol is highly effective for treating problematic skin. It contains 5% alpha and beta hydroxyl acids: lactic acid, malic acid, glycolic acid and salicylic acid together with vitamin E retinol, allantoin, bisabolol and effective moisturizers. This day cream has a Sun Protection Factor SPF 15 .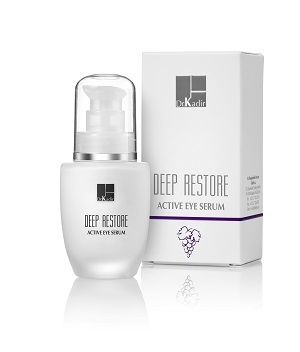 Deep Restore Active Eye Serum:
The Serum has a special rich and pleasant texture. It contains a special quinoa extract (Adipoless) which demonstrated (in clinical studies) a significant reduction of dark circles under the eyes. It was found that this extract protects the capillaries against environmental aggression. The Serum contains also magnolia bark extract. Magnolia is a medicinal plant which belongs to the China pharmacopeia. Magnolia bark extract neutralizes internal aging factors and reduces skin redness. Furthermore, the Serum contains Low Molecular weight hyaluronic acid, a new generation of active ingredients which helps the skin to maintain an optimal hydration level and enhances the firmness of the skin.