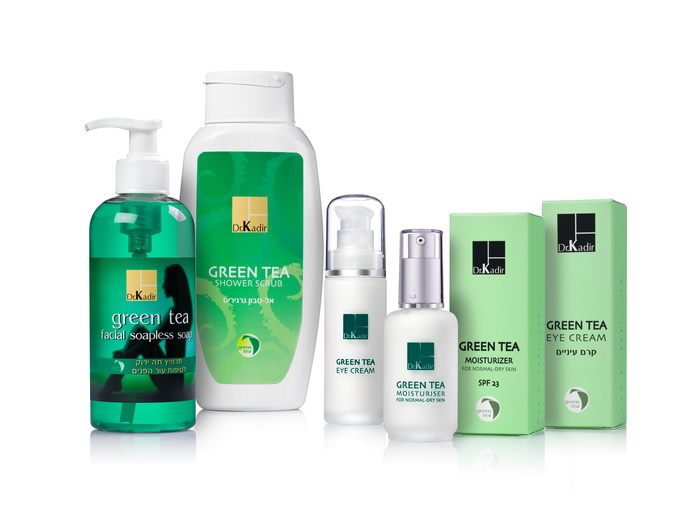 WHY GREEN TEA ?
Scientific researches by the hundreds proved and established beyond any doubt the advantages and benefits of Green Tea in protecting different tissues in our body.
GREEN TEA IS THE MOST CONSUMED BEVERAGE IN THE WORLD AFTER WATER.
Green Tea is blessed with special active anti-oxidant ingredients (polyphenol of catechins type) – These compounds proved to be very strong anti-oxidants, more effective than vitamin E and vitamin C. They provide active protection against sun radiation and its damages to our skin. We are well aware nowadays that the sun radiation and other environmental factors as well, play a dominant role in the accelerated process of skin aging. Effective cosmetic preparations must contain effective anti-oxidants capable of neutralizing the presence of free radicals which occurs after radiation, and thus to minimize their damages remarkably.
There are four products in this Green Tea Series:
Green Tea Moisturizer for dry skin
The cream has a delicate and pleasant texture, it has a sun protection factor SPF=20.
It contains green tea extract, panthenol and other modern moisturizers.
Green Tea Eye Cream
The cream has a unique liquid texture. It contains vegetable squalane (an oily substance identical to the natural sebum in the skin) .this eye cream improves the moisture balance in the delicate eye region, nourishes it with vital vitamins such as vitamins E and B5. It also contains green tea extract and bisobolol – all ingredients contributing to the special soothing-calming qualities.
Green tea soap less soap
A very gentle soapless soap, maintains the natural pH of the skin. Contains green tea extract.
Green Tea Shower Scrub
This soapless soap is gentle and quick foaming contains green tea extract and a high concentration of round shaped grains which make it a perfect cleansing preparation.